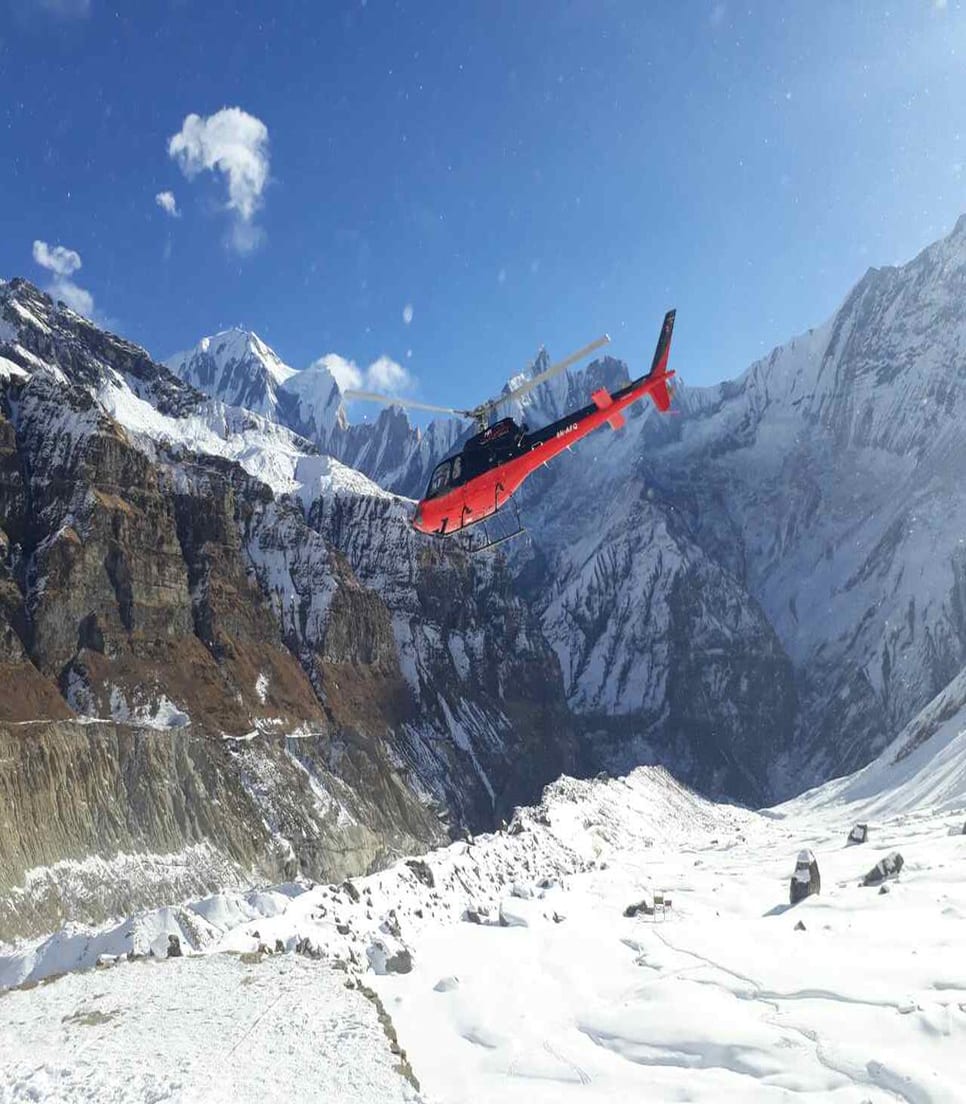 EVEREST BASE CAMP HELICOPTER TOUR
Trip Description
Everest Base Camp Helicopter Tour is also known as Everest helicopter tour in Nepal, where you get to see Mt. Everest and entire Everest region along with the bird's eye view of 8 of the tallest mountains in the world.
The trip starts with the flight to Lukla from Kathmandu opening up to the astounding views of Kathmandu valley, green hills, and other spell-binding landscape. After a few minutes on air the first range - Langtang range comes into view as the flight heads towards the mountain region. Of course, the tallest peak in the world- Mount Everest is the first to come into view followed by Ama Dablam, Lhotse, Makalu and others.
After fueling in Lukla, the flight starts flying towards Everest Base Camp / Kalapatthar. The Everest base camp helicopter flies over the Tengboche, Dingboche, and Gorakshep and Khumbu glacier to reach the Base camp of Mount Everest.
The ultimate Mount Everest base camp helicopter tours give you some of the best mountain views and sceneries. You will be given a maximum 5 minutes of landing time at Everest Base Camp with Kalapatthar Landing due to the altitude threat. And then on the way back, you will be given 20 minutes at Syangbochen (Hotel Everest view) to take tea/coffee or breakfast.
5 passenger 1 captain is maximum (500kg weight) for Everest base camp helicopter tour with landing based on body weight. In the case of 4-5 pax, we have to run 2 shuttle flights from Pheriche or Everest view hotel by spiting bodyweight 250kg on average.
The unobstructed mountain views and breakfast up close to the top of the world makes your journey to the Himalayas a once in a lifetime experience.
Why this trip?
Flight in the mountains above the clouds offering the mesmerizing scenes of the emerald-coloured glaciers and lakes, rivers and gorges cradled in the Himalayas, Mountain flight is an amazing opportunity to observe the amazing endless series of mountains like Mt. Everest, Cho-Oyu, Lhotse, Imja Peak, Mt. Gauri Shankar, Thamserku, Kangtega, Mt. Ama Dablam, Mt. Pumori, Mt. Shisha Pangma, Mt. Nuptse, Mt Makalu, Mt. Cho Oyu, Mt. Kanchenjunga and more without having to go for strenuous treks for days.
Trip Facts
Thrilling helicopter tour to Everest Base camp.
Helicopter Land and stop for Breakfast in Everest View Hotel
Short landing in Kalapatthar to see Everest and other high mountains and feel the altitude
Great views of famous peaks such as Ama Dablam, Lhotse and many more.
Stunning landscapes, Icefalls, and glaciers
Beautiful villages and valleys.
Day 1

Heli EBC

PHASE 1: KATHMANDU - LUKLA (FUELING)

Flight Time: 45 Minutes

Ground Time: 5 Minutes

Early in the morning, approximately at 5: 30 am our representative will pick you up from the hotel and escort you to the Tribhuvan International Airport (TIA). We reach airport at around 6:00 am as boarding takes place at 6:45 am. Taking off, heading east opening up to the majestic views of Kathmandu valley and the mountains after almost 45 minutes in air, we stop at Lukla airport for fueling which takes about 5 minutes.

PHASE 2: LUKLA - EVEREST BASE CAMP (KALAPATTHAR)

Flight Time: 25 Minutes

Ground Time: 7-10 Minutes

After fueling, we continue our ultimate Everest Helicopter tour. Flying over Namche Bazar, Syangbochen, Tengboche and Everest Base Camp admiring the dramatic aerial view, we land at Kalapatthar. Upon landing at Kalapatthar, we spend approximately 7-10 minutes to enjoy the spectacular views of Mt Everest (8,848m), Pumori (7,161 m), Ama Dablam (6,812 m), Lhotse (8,516 m), Choyu (8,201 m), Nuptse (7,861 m) and other surrounding peaks up close.

PHASE 3: EVEREST BASE CAMP (KALAPATTHAR) - SYANGBOCHE

Flight time: 15 minutes

Ground time: 30 minutes

Next, after the breathtaking experience of observing the 8 of the tallest mountains in the world, we board the waiting chopper and fly towards Everest view hotel at Syangbochen. At 3800 m, Everest view hotel is one of the world's highest full service hotel situated high above the Khumbu valley the hotel boasts amazing panoramic view of the major peaks in the Khumbu region including Mt. Everest, Ama Dablam and Lhotse.

PHASE 4: SYANGBOCHE - LUKLA - KATHMANDU

Flight time: 1 hrs 10 minutes

Enjoying these mesmerizing views of snow capped mountains; we enjoy breakfast and celebrate the end of our memorable Everest journey. After breakfast, we board the chopper and fly to Lukla and head back towards Kathmandu. Upon reaching Kathmandu, you will be transferred to the hotel.

1 PM: KATHMANDU HERITAGE SIGHTSEEING

After few hours' rest, we head towards the important places with in the Kathmandu Valley for sightseeing. Kathmandu valley is an incredibly diverse city with a breathtaking Newari culture, centuries-old Hindu and Buddhists cultural sites alongside a plethora of ancient monuments. The capital of the country and home to 7 UNESCO World Heritage Sites, Kathmandu, bridges modern facilities with centuries-old traditions and cultures with its tourist-friendly accommodations.

6 PM: BACK TO HOTEL

After visiting most of the UNESCO World Heritage Sites in Kathmandu throughout the remaining day, we head back to the hotel.

Overnight at the hotel;
Whats included in this tour
Items that are covered in the cost of tour price.
Whats not included in this tour
Items that are covered in the cost of tour price.
| Departure Dates | Trip Status | Available Seats | Starting Price (PP) | |
| --- | --- | --- | --- | --- |