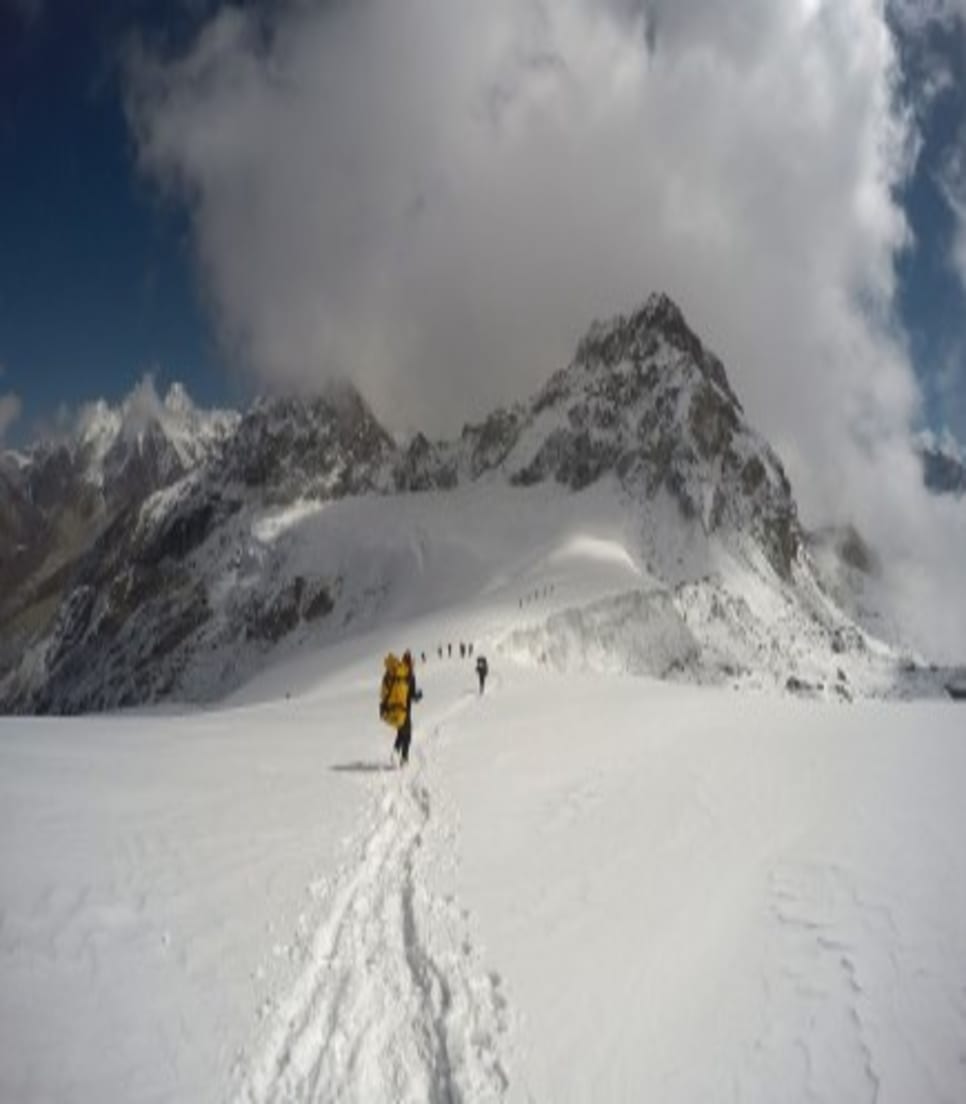 MERA PEAK
Vacation Style

Peak Climbing
Trip Description
Experience the ascent to the highest trekking peak in Nepal with Mera peak. It is standing tall at 6476 m and is one of the most sought after mountaineering peaks in Nepal.
The Mera peak expedition begins from Kathmandu followed by a short flight to Lukla. From there, we head upwards through beautiful hills and valleys to reach the cold mountain region. Lying arduously on the edge of the Khumbu region, Mera Peak climbing is also an excellent opportunity to experience trekking in the Himalayan region of Nepal.
It involves culturally stimulating venture through remote villages and lush forests - followed by summiting the majestic Mera peak. The climb of Mera comes at the end of week-long trekking and this expedition is not necessarily technically difficult, but the altitude which makes this trip an exciting and challenging.
The trail for this trip ranges from moderate to difficult, thus, one must be physically fit to go for this trip. With the increase in altitude, the risks of altitude sickness also rise. People with respiratory problems must consult their doctor before head out on this trek. With an adequate time of acclimatization and proper hydration altitude sickness will be less of a problem.
Experience the thrill of climbing the highest trekking peak of Nepal with Mera peak.
Trip Fact
Mera Peak has 3 distinct summits; North (6,476 m), Central (6,461 m), and South Mera Peak (6,064 m).
Mera peak is considered one of the finest viewpoints in Nepal.
Mera Peak stands to the south of Everest.
J.O.M. Roberts and SenTenzing made the first successful ascent of Mera Peak on 20 May 1953.
The major peaks observable from Mera peak include some of the highest mountains in the world; Mt. Everest, Cho-Oyu, Lhotse, Makalu, Kanchenjunga, Nuptse and many more.
Why this trip
Mera peak is among one of those peaks that perfectly blends adventure with culture. This week-long peak climbing is one of the most famous peaks among the mountaineers. One of the reasons for its popularity is its accessibility to anyone with less or moderate experience in Mountaineering that means a novice mountaineer can attempt to climb it with the proper guidance of Sherpa's and Guides. It is the highest trekking peak in Nepal that transports you through remote picturesque villages and lush forests followed by the gentle climb to the summit. This trip packed with adventure, nature, and culture is sure to give you an experience of a lifetime.
Whats included in this tour
Items that are covered in the cost of tour price.
Whats not included in this tour
Items that are covered in the cost of tour price.
| Departure Dates | Trip Status | Available Seats | Starting Price (PP) | |
| --- | --- | --- | --- | --- |