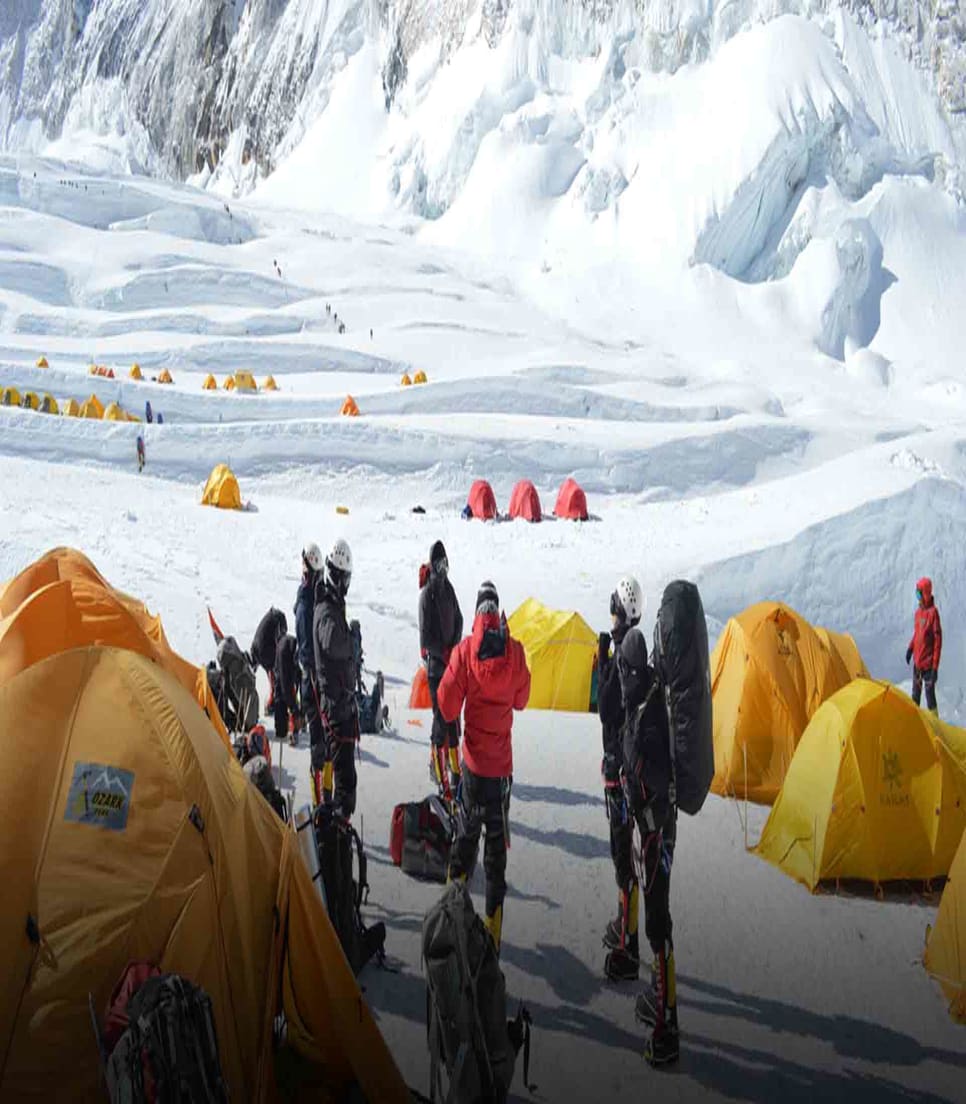 Mt. Everest Expedition
Vacation Style

Expedition
Trip Description
The Majestic mountain of Everest needs no introduction; quite possibly
This is the most admired and popular mountain in the world. Named after Sir George Everest- the General of British India during the survey period during 1856 is better known as Sagarmatha (the forehead of the sky) amongst Nepali and Chomolungma (Goddess Mother of the World) in Tibetan. The first attempt to conquer the Everest was made in the 1920s which ultimately ended in disaster. Success came only in 1953 from the Southside on the very same route you'll be taking for this expedition.
Any Mt. Everest Expedition (South Side) is a cautious and planned endeavour that requires excellent leadership, organization, excellent Sherpa's, the best gear, safety equipment and guides.
Relive the historic achievements and write your history by making an attempt to surmount the top of the world with Lonely Planet Nepal's team.
Why this trip
The Everest Expedition in the Himalayas proffers the Mountaineers with the greatest satisfaction and surprises its climbers with its extraordinary landscapes and brilliant influence in the world including two great highlights i.e. Rongbuk Monastery and Everest Base Camp.
Trip Facts
Everest was created about 60 million years ago.
Sir Edmund Hillary and Late Tenzing Norge Sherpa first step on this peak on May 29, 1953, with their earnest efforts.
Appa Sherpa and Phurba Tash Sherpa are tied for the most successful summits of the mountain that have stood on the top of the highest point on Earth an astonishing 21 times.
George Everest, Surveyor General of India from 1830 to 1843, discovered Everest in 1841.
The oldest climber to reach the summit is held by Yuichiro Miura of Japan who was 80 years old.
The youngest person to summit the mountain is American Jordan Romero at the age of 13.
Mount Everest is also home for the Euophrys omnisuperstes (standing above everything) also known as Himalayan Jumping Spiders making them one of the earth's highest permanent residents.
One Base Camp and four additional higher camps supported by highly experienced mountaineers, guides and crew members.
This expedition includes acclimatization and cultural trek into the scenic Sherpa heartland of the Khumbu Valley.
Technically challenging Everest Expedition is one of the most satisfying journeys one could ever have in their entire life.
Whats included in this tour
Items that are covered in the cost of tour price.
Whats not included in this tour
Items that are covered in the cost of tour price.
| Departure Dates | Trip Status | Available Seats | Starting Price (PP) | |
| --- | --- | --- | --- | --- |